Enterprise-grade MDM for SMEs
Servasure KNOX manage is …
cost-efficient, enterprise-grade, end-to-end MDM solution
Allowing SMEs to …
meet increasingly demanding security requirements
manage mobile devices using a cloud-based console
separate business & private data
respect employee privacy – yet stay secure
What is Servasure Knox Manage?
Cloud-based EMM solution that allows IT admins to set up, manage and monitor devices
remotely to increase business efficiency
and secure corporate data
All major platforms supported
The fastest time-to-market of new features for Samsung devices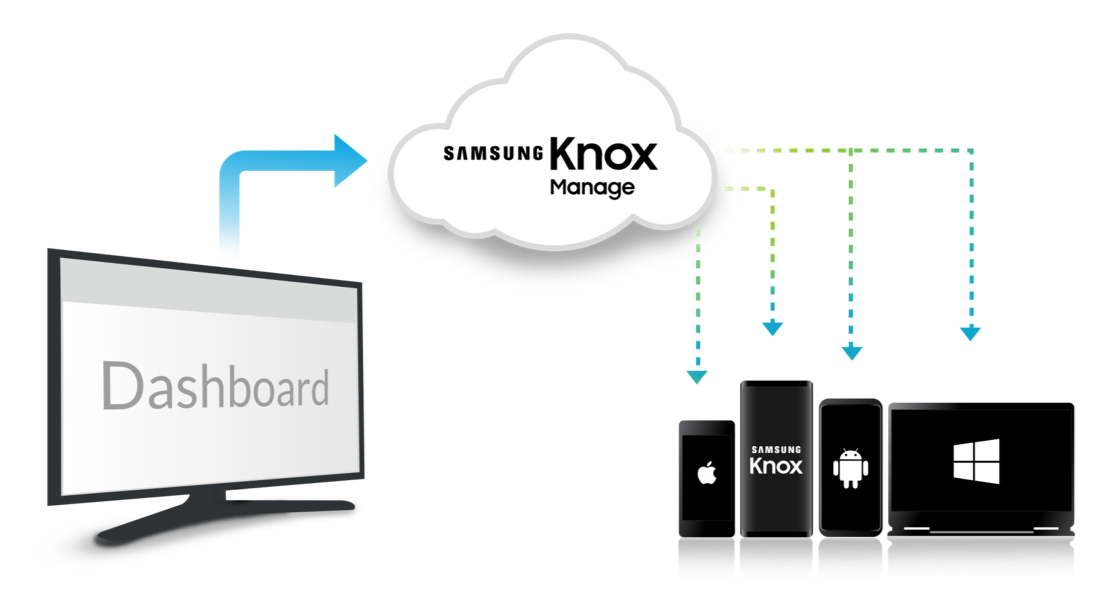 Tools are provided to make it easy and simple for IT Admins to set up devices profiles and deploy
Simple and easy initial setup with pre-defined questions and recommended profile setup tool i.e. From user enrollment to app/policy push
IMEI/serial number-based device enrollment
Automatic client installation of & enrollment to Knox Manage service
No hassle of unneeded setup
i.e. Skip Setup Wizard Mandatory re-enrollment even after factory reset
No need to develop in-house launcher app
Diverse Kiosk mode support i.e. Single-app or multi-app, web browser kiosk, etc
Hardware key control
i.e. Disallow Home/Back/Volume/Power key
Customizable kiosk home screen
i.e. Add bookmark, folder, banner, memo to home screen
Change wallpaper, etc
Knox Manage has a variety of management capabilities for multiple OS,
on top of more advanced features available on Samsung Galaxy devices.

Multi-OS support
- Android, iOS, Windows
Manage all devices from a single console
Event-based Policy Enforcement
Apply different policies based on user events
Time, App, Wi-Fi, SIM, Roaming, GPS*
Differentiated Knox Platform Features
Advanced container management
Container Lock, Data Loss Prevention
HW-based credential storage
Premium VPN features
Per-app/per-container VPN setting
Mobile Application for Admin
Manage devices and users via application on mobile device
IT Admins can ensure that devices remain compliant and error-free
Remotely access employee devices
Maintain up-to-date profile and policy settings
Easy troubleshooting
Offline un-enrollment capability
Real-time compliance check of device
Device status monitoring
Policy compliance check
Alerts, logs or command history details
Track specific device information
i.e. location, phone/data usage, connectivity status, installed app list
Device Minimum Requirement
Android - Kitkat (v4.4 or above)
iOS - 8 or above
Windows 10 - All editions
For Knox Mobile Enrollment
Samsung Galaxy devices with Knox Platform v2.4 or above (= Android Kitkat or above)
* Available features may vary depending on the platform versions
More cost effective than competitors
Bundled licenses with Servasure annual support included – big savings over the competition
Allowing no strain on the resellers support structure
Low cost implementation – big savings over the competition
License for 1 or 2 years available
Up and running within 24 hours